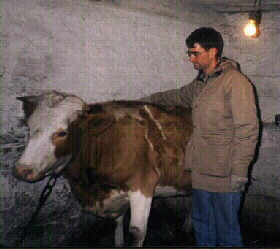 Welcome to our site. I hope you take this opportunity to familiarize yourself with an organization that demonstrates clearly the vision, commitment, and resourcefulness of our young generation. In less than three years, this organization has taken a prominent role in our school and community, whether it is taking a stand against the filtration plant proposed at the Jerome Park Reservoir, cleaning up graffiti in the Marble Hill and Kingsbridge communities, helping out in various clean ups around the Bronx, or most of all, establishing a masterpiece of a garden in a vacant lot adjoining our school.
The garden, otherwise known as "The Enchanted Garden", is the club's pride and joy. We fought hard to gain permission to use a piece of a large vacant lot next to our school. When we were finally granted the OK by the city, we worked in earnest, building a fence, constructing paths, and planting our first fruit trees, azalea bushes, and sunflowers. Most of this was accomplished by students in our club, with their own bare hands.
This garden is located in a former river valley. One hundred years ago, the Harlem River used to flow south from 230th Street, through a marshy expanse where PS 37 and Kennedy High School are now situated. The land was filled in, and some factories and a rail yard were built at this site in the early 1900's. Now, much of the land remains vacant, and is sure to be the sight of some major development project in the future, but for now, it is a derelict property owned by the city. We have adopted a corner of this lot which contains a remnant of wetlands. The existence of cat tails, marsh marigolds, and swamp willow are a reminder of what this land must have looked like a century ago.
Now, this corner is no longer the eyesore full of old chairs, broken glass, and all other forms of garbage. It is a real "gem in the rough", an oasis in the middle of the Bronx, where one can easily shut oneself off from the cacophony of the city around us. Students have laid out a maze of inviting, winding paths, that lead one to surprising sights at every turn. Contained in over two dozen beds are vegetables, herbs, fruits, well over 50 different perennial flowers, and dozens of different annuals. While we still have a long ways to go to achieve the polished look of the New York Botanical Garden, we are learning fast, and hope this year, to present many new items with the kind of creativity that will knock you out!
We have much to be thankful for. Some teachers at Kennedy have done much to make this garden work. Mr. Silvestri, our Principal, is a gardener himself, and has been extremely supportive of our efforts. Mr. Moran and Mr. Bellotti, the school custodians have always gone out of their way to help us, whether it is to loan a hammer, or recharge a drill. Mr. Wittmer, our shop teacher, was able to get his students to build birdhouses, and to build our twenty foot long bridge across the wetlands.
We also are grateful for all the help that the city agency, GreenThumb has been able to offer. As an official GreenThumb garden, we are provided with lumber, plants, bulbs, and all the technical advice we could ever need. Bronx GreenUp, which is an agency housed at the New York Botanical Garden has provided us with more than half of all our greenery. Simply put, we would not have achieved half of what we have without the steadfast support of Anne O'Neill (leaving this January ), Wave Hill, the Friends of Spuyten Duyvil, the Riverdale Community Association, Councilwoman June Eisland, State Assemblyman Jeffrey Dinowitz, and our Borough President, Fernando Ferrer. We also are recipients of varous grants. Various foundations have offered us money earmarked for special projects: 1. National Gardening Association: new tools and seeds 2. Captain Planet Foundation: a growlab for indoors 3. The Philanthropic Foundation: four Can-O-Worm Composters and books 4. The Hudson River Foundation: construction of a pond, an informational kiosk, and summer jobs in the garden (all of this is for 1998) We are truly grateful for their interest and support.
Last, we have our students to thank. The garden was their idea, and they have carried out their initial vision. They have kept their vision alive by coming down to water, weed, or plant all times of the year, whether on a cold drizzly day in December, or a torrid day in August.
While visiting this site, keep in mind that we do more than garden. We are in the process of establishing a class, and utlimately (we hope), an environmental program in our school. We have been working with PS 7 as environmental educators, and hope to teach the students there how to compost with worms. We also have established a link with a group called EcoBridge, an environmental group that is trying to foster greater understanding and cooperation between the United States and Russia. This November, seven of our students were able travel to Saratov, Russia to work on various projects pertaining to the environment. In April, our seven hosts will visit us, and we will continue comparing notes on how Russians and Americans address environmental issues. There is much more to say, but I think this is enough for this space!
Help us keep this vision alive, and play your part in making our world a little better by helping us out. Come visit or volunteer! At the least, explore our site, and let us know what you think!
Mr. Thoman
Select a link:
Our Principal, Our Advisor, Our Cabinet, Home
updated November 19, 2000 by Evagelia Bakoulis